Event Program: 2023 Mission Foods Sonoma SpeedTour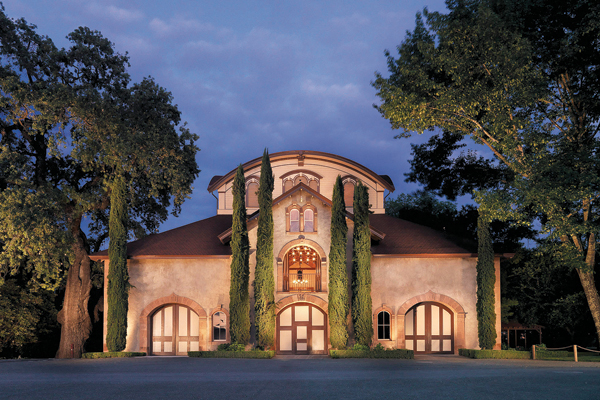 No trip to Northern California is complete without touring and tasting your way through one of the world's greatest wine regions
by Rich Taylor
Spanish missionaries led by Father Junipero Serra planted European grapes in Southern California starting in 1779, but it was only after the 1848 Treat of Guadalupe Hidalgo and the simultaneous discovery of gold at Sutter's Mill—halfway between Sacramento and Lake Tahoe—that Northern California opened up to settlers. Agoston Haraszthy founded Sonoma's Buena Vista Winery in 1857 and both Jacob Gundlach and John Patchett founded eponymous wineries in 1858. Charles Krug started his Napa winery in 1861, his former employer Jacob Beringer his own firm in 1876. Gustave Niebaum's Inglenook Winery dates to 1879. Phylloxera was inadvertently introduced to Europe in 1863, by samples of American vines that were resistant to the disease. By 1885, European vineyards had been almost totally destroyed. It took decades to graft European vinifera vines onto phylloxera-resistant American riparia roots in order to bring back the European wine industry. About the same time this was accomplished, the United States prohibited the manufacture or sale of alcoholic beverages.
Prohibition from 1919 through 1933 reduced the number of wineries in America from 2500 to less than 100. Ironically, it was new phylloxera-resistant vines from Europe that reestablished California vineyards after 1933. The effects of Prohibition were surprisingly long-lasting; it was 1965 before Robert Mondavi opened the first new winery in Napa Valley since 1918.
Today, there are more than 600 wineries in the California Wine Country. Unfortunately, some were damaged in the autumn of 2017 by raging wildfires that destroyed not only vineyards, but much of Santa Rosa. Fortunately, most of the fire was constrained to hilltops surrounding Sonoma and Napa. There're still lots of neat wine-oriented places to visit, and some fun roads to drive in order to get there. One word of warning: winery visits are so popular and many wineries so small, you should always phone ahead.Beringer Rhine House
Frankly, this article started out to talk about vineyards in both Napa and Sonoma. There are just too many! So this year, I've concentrated on Napa Valley, and even then, I've only been able to mention the highlights. Follow this route, and you'll get a terrific sampling of Napa wines. If you sample too much, of course, you'll also end up with a splitting headache if not a DUI, so please don't overindulge. If nothing worse, a hangover will definitely slow you down at the track!
Start by heading North from Sonoma Raceway on Route 121. After 6.0 miles, take a Right on Route 121/12/Carneros Highway toward Napa. After another 7.0 miles, there are two interesting wineries to visit. Domaine Carneros is reminiscent of the 1760 Chateau de la Marquetterie in Pierry, near Epernay, owned by the Taittinger Champagne family. There are formal gardens, great views and of course, sparkling wines (domainecarneros.com, 707-257-0101).
Across the road from Domaine Carneros is Artesa Vineyards… Left off Carneros Highway on Old Sonoma Road, then Left on Dealy Lane. High on a hill, Artesa offers not only California varietals but tremendous views…on a clear day, you can see San Francisco! (artesawinery.com, 707-224-1668).
Follow 121 past Downtown Napa until it intersects Silverado Trail. Take Silverado Trail North. In 1.5 miles you'll find Luna Vineyards, a small producer that specializes in Pinot Grigio. Their wine bar is a relaxing patio, while the Tower offers great scenic views over Napa (lunavineyards.com, 707-255-5862. It's literally on the road to Silverado Resort and Spa, which is one of the prettiest places to stay around Napa (silveradoresort. com, 707-257-0200).
Just across Silverado Trail near Downtown Napa is Andretti Winery, which of course, is owned by Mario Andretti and Joe Antonini. It's modeled after the village of Montona, where Andretti was born (andrettiwinery.com, 707-259- 6777). Andretti Winery is not the only Napa vineyard owned by a racing driver. Altamura Vineyards on Wooden Valley Road outside Napa is owned by Porsche vintage racer Frank Altamura and his wife Karen, and has been in their family since 1850 (altamura.com, 707-253-2000).
A number of well-known wineries in this neighborhood, including Signorello, Stags Leap and Darioush, were damaged in the 2017 fires. Call ahead to find out their current status for visitors. As you drive North on Silverado Trail, you'll pass Clos Du Val (closduval.com, 707-261-5251) and Mumm's Napa (mummnapa.com, 707-967-7700). Both are worth a stop for the wine, if not the extravagant ambience of some other wineries.
Calistoga Grade, which will take you to Robert Louis Stevenson State Park and the Mt. Helena Trailhead. The park trail has some of the best views in the California Wine Country, but as this is written, Stevenson Park is closed because of wildfire damage. So why did we bring you here? Just to drive a marvelously-curving mountain road!
Turn around and wind your way back down the mountain on 29 South to a Right on Tubbs Lane. Just after the intersection you'll find Chateau Montelena Winery, an extravagant 1882 stone castle with lovely gardens, a small lake with Oriental gazebo and pretty views. They also make nice wine! (montelena.com, 707-942- 5105).
Tubbs Lane will T-junction at 128/Foothills Boulevard. Take it South. In 3 miles, you'll find Castello di Amorosa. Dario Sattui, founder of V. Sattui, spent 15 years constructing a replica 13th Century Tuscan castle complete with moat and drawbridge, a variety of wines and an Italian restaurant (castellodiamorosa.com, 707-967-6272).
In another 2.5 miles South on 128, you'll see signs for Bale Gristmill State Park. Follow them to the historic 1846 gristmill, one of the oldest surviving buildings in Northern California and the center of the historic Upper Napa Valley. It's only open on the weekends, but worth a visit (parks.ca.gov, 707-963-2236).
One of the oldest wineries in California was begun by Charles Krug in 1861, and is still controlled by the family. The magnificent hall at the center of their estate dates to 1872, and is on the National Register of Historic Places. Charles Krug winery is a bit overwhelming, but this is the nearest we come in America to viniculture royalty (charleskrug.com, 707-967- 2229).
Mondavi, and Baron Philippe de Rothschild of Rothschild. The aim is to produce a single wine, a very formal, luxurious Cabernet Sauvignon. The stature of the Cab Sav is reflected in the architecture and the ambience of this modern winery.
Just down the street is Beringer Vineyards, begun by one of Krug's employees in 1876. The imposing Rhine House, the symbol of Beringer, is on the National Register of Historic Places and is a California Historical Landmark. As you'd expect, Beringer is imposing and classic. The Beringer family sold out to Nestle in 1971, and since then, the property has gone through a succession of owners, but it's still a spectacular place (beringer.com, 707-257-5771).
A little further South on 128 is Spottswoode Winery in St. Helena, about as different from Krug and Beringer as it can be. Housed in an 1882 Victorian House set in lush gardens, this is a tiny vineyard that produces just four varietals in very small quantities. Their wines are very, very delicious and made in a lovely spot to visit (spottswoode.com, 707-963- 0134).
On 29/128 in St. Helena, 2.4 miles South of Spottswoode, V. Sattui Winery claims to be the most popular destination in Napa Valley thanks to a variety of wines, an Italian deli, neat buildings and even a picnic ground. It's the very opposite of stuffy wine-snobbery (vsattui.com, 707-963-7774).
In Rutherford, 3.0 miles South of V. Sattui, at the intersection of 128 and 29, which dates back to 1879. Inglenook's heyday was the Thirties, when celebrities like Clark Gable and Carole Lombard liked to visit the classic vineyard. Francis Ford Coppola bought the property in 1975, but didn't secure the Inglenook name until 2011. It's now magnificently restored, cost no object, and along with Krug and Beringer, one of the crown jewels of Napa Valley (inglenook.com, 707-968-1161).
Just over a mile South of Inglenook on Hwy. 29 are Cakebread Cellars (cakebread.com, 800-588-0298) and Robert Mondavi (robertmondaviwinery.com, 707-226-1395). If Krug, Inglenook and Beringer represent the long history of Napa wine-making, Cakebread and Mondavi represent the modernist future.
On what is considered one of the best sports car roads in California, with great driving and great views. Follow Oakville Grade to a Right on equally-twisty Dry Creek Road. After a set of mountaintop switchbacks, Dry Creek Road changes its name to Trinity Road. Follow Trinity Road to 12 South. Until last October, I would have told you to follow signs to Glen Ellen and Jack London State Park where you can visit the home of this famous author. Since the fires, however, the park has been closed. Instead, you have a choice. If you're still not satisfied with wineries, you can continue South on 12 to 121 South back to Sonoma Raceway to complete our loop. Be forewarned, however, you'll be on the main road through Sonoma, probably at rush hour.Instead, I suggest you leave the Sonoma Valley vineyards for another trip—surely there's enough to see in Napa—and just after the intersection of Trinity Road and Route 12, turn Right on Arnold Drive. Follow Arnold Drive all the way to Left on 116, which will take you to 121 South and back to Sonoma Raceway while avoiding most of the traffic.