Event Program: 2022 Charlotte SpeedTour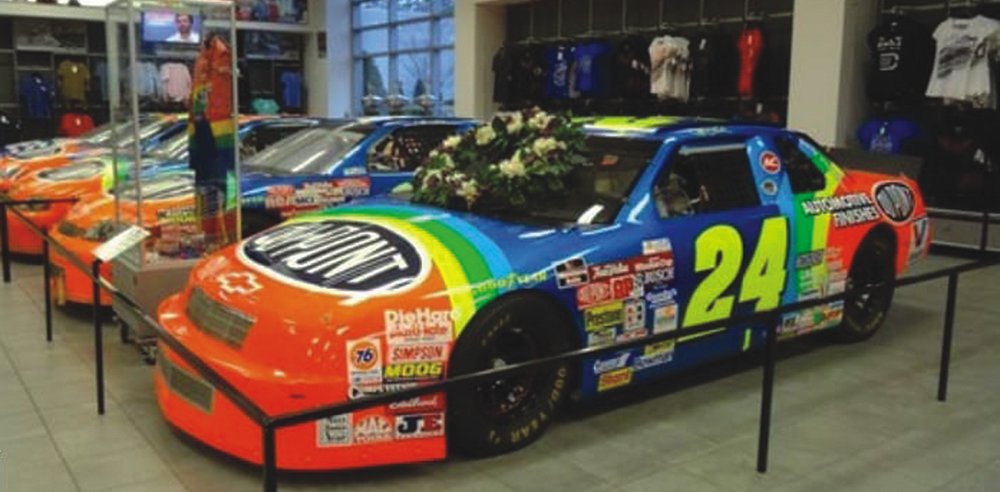 Destination: Charlotte
There are great things to see and do on the way to the track, so you can take a leisurely drive and enjoy a mini-vacation in a beautiful part of the country between race weekends. If you're going to spend a lot of time and money going to an event, you may as well spend a couple of days looking around the neighborhood.
Warning: Before you go exploring, call ahead. Thanks to COVID-19, regulations governing restaurants, hotels, museums, historic sites and other facilities may change abruptly.
While in Charlotte, there are four spots you really should visit. Literally across the street from Charlotte Motor Speedway is Hendrick Motorsports, the spectacular headquarters and museum of the #9, #24, #48 and #88 NASCAR teams, as well as Rick Hendrick's col-lection of vintage cars (877-467-4890, hendrickmotorsports.com).
Near the I-77/I-495 intersection, billionaire vintage racer Rob Kauffman has an elaborate show-room/restoration/race shop called RK Motors (704-251-0053, rkmotors.com).
In downtown Charlotte is the NASCAR Hall of Fame (707-654-4400, nascarhall.com).
At Charlotte Douglas Internation-al Airport is the Carolinas Aviation Museum, with everything from a repli-ca 1903 Wright Flyer to the Airbus A320 that landed on the Hudson River in 2009 (704-997-3770, carolinasaviationmuseum.org).
WEST OF CHARLOTTE
Once free of Charlotte, instead of driving straight to Atlanta, curve West to Lake Lure and then Asheville.
Lake Lure: Italianate 1927 Lake Lure Inn is an eccentric and fun Historic Hotel of America, famous because portions of cult classic Dirty Dancing were filmed there (828-625-2525, lake-lure.com).
Asheville: Biltmore Estate, com-pleted by society architect Richard Morris Hunt for George Washington Vanderbilt II in 1895, is well worth the trip. At 178,926 square feet, in the middle of a 75 acre formal garden in the center of an 8000 acre property, Biltmore is still the largest and grandest home in America (biltmore.com, 800-411-3812).
Omni Grove Park Inn (omni-hotels.com/asheville, 800-438-5800), is the classic place to stay in Asheville, famous for its 1913 Arts & Crafts interiors. There's an adjacent car museum, plus historic Biltmore Industries factory.
Maggie Valley: On Route 19 West of Asheville, Wheels Through Time Museum has over 350 rare motorcycles and cars jammed into 38,000 square feet (wheelsthroughtime.com, 828-926-6266).
Gatlinburg: A short drive West of Maggie Valley on scenic Highway 441 gets you to hectic and touristy Gatlinburg, TN. Stay outside of town at the luxuriously-rustic, mountaintop Lodge at Buckberry Creek (865-430-8030, buckberrylodge.com).
Pigeon Forge: Only a few miles from Gatlinburg is Pigeon Forge, home of Dolly Parton's Dollywood (800-365-5996, Dollywood.com).
Sevierville: Only a few miles from Dolly's is Floyd Garrett's Muscle Car Museum, a great collection of hot-rods, customs and muscle cars (musclecarmuseum.com, 865-908-0882).
Only a few miles from Floyd's is the Tennessee Museum of Aviation, showing everything from a 1902 Wright Glider to a Boeing P-12E, from a MiG-21 to two airworthy P-47s (tnairmuseum.com, 865-908-0171).
Tail of the Dragon: From the Gatlinburg/Pigeon Forge/Sevierville megalopolis, if you take 441 South then Old Scenic 73 West then 321 South then Foothills Parkway, you'll be on 129 South, the Tail of the Dragon! The official end of Tail of the Dragon is a gas station in Deals Gap at the intersection of 129 and 28.
Highlands: From Deals Gap, fol-low 28 South for 70 miles to Highlands, NC. Old Edwards Inn dates back to 1878, but has been expensively ren-ovated (oldedwardsinn.com, 866-526-8008).
Across the street is moderately-priced Highlands Inn, (highlandsinn-nc.com, 828-526-9380), not as fancy but more fun.
The best place to eat in Highlands is Ristorante Paolitti, an upscale gourmet Italian restaurant (paolettis.com, 826-526-4906).