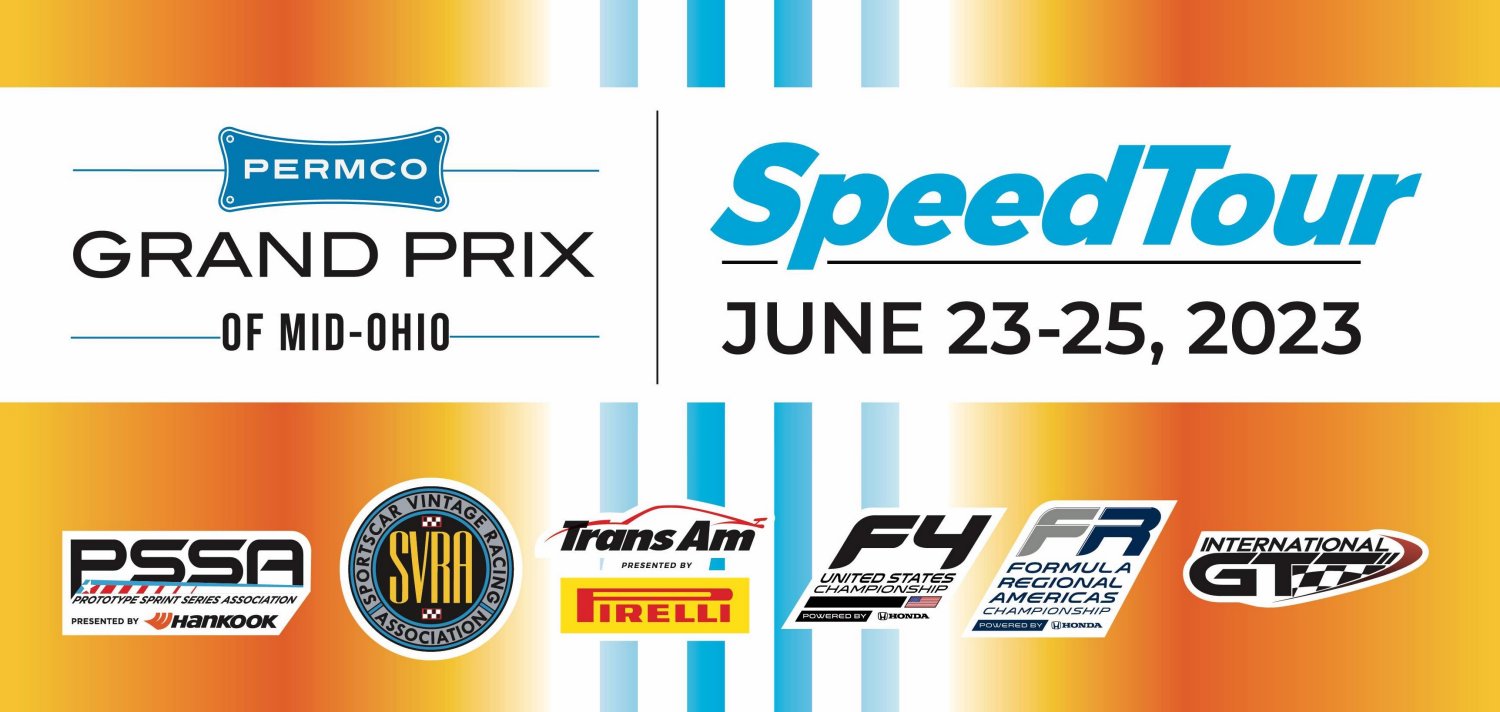 Event Program: 2023 Mid-Ohio SpeedTour
Destination: Mid-Ohio
By Rich Taylor
Whether this race weekend or another, consider adding a couple days to your trip to Mid-Ohio Sports Car Course and enjoy a backroads tour of Ohio and Indiana. There are lots of unexpected things to do and see, plus beautiful scenery created 12,000 years ago when receding glaciers left a charmingly tumbled terminal moraine that might have been expressly designed to cradle rural sports car roads.
If you are heading to Mid-Ohio from Indiana, perhaps start the tour with a visit to Columbus, is in order. In 1919, J. Irwin Miller's wealthy family bankrolled a local mechanic named Clessie Cummins to start building diesel truck engines. J. Irwin ran Cummins from 1934 to 1977. Miller's hobby was modern architecture. He was personally involved in various significant buildings in Columbus, Including the landmark 1942 First Christian Church by Eliel Saarinen and his own home, the National Historic Landmark 1953 Miller House by Eero Saarinen that's now owned by the Indianapolis Museum of Art.
Starting in 1957, the Cummins Foundation has paid the architect's fees for all new public buildings in Columbus. The result is an open-air museum filled with avant garde buildings by not only the Saarinens, but world-class names like Richard Meier, Eliot Noyes, I. M. Pei, Cesar Pelli, Kevin Roche, Skidmore, Owings & Merrill, Robert A. M. Stern and literally dozens of others. There's no other place like it anywhere in the world.
You can even stay overnight in the 13,000 square foot 1910 home where J. Irwin Miller was born, now open as a luxurious B&B, the Inn at Irwin Gardens (812-376-3663, irwingardens.com). For $10, you can also buy a set of postcards that comprise an architectural tour of Columbus, with a phone number to call at each building to listen to a prerecorded lecture.
From Columbus, Indiana, follow 46 West to Nashville, Indiana. Tiny Nashville became an art colony around 1900, and thanks to the Brown County Art Guild, is still a tourist destination featuring artist studios, art galleries, antique shops, restaurants, cute country inns and two New England-style covered bridges. The most interesting place to stay is probably Cornerstone Inn, a traditional turn-of-the-century country inn with 37 rooms that have been totally renovated and luxuriated within the past few years (888-383-0300, cornerstoneinn.com).

Forty years ago, when I was a graduate student at nearby Indiana University, Nashville was where everyone brought out-of-town visitors for lunch and an afternoon stroll. The quaintest spot is still the Nashville House Dining Room and Old Country Store, which has been serving traditional country dishes since 1859…and I mean, traditional. Don't expect organic kale salad with quinoa and a chipotle edamame burger…this is the place for fried chicken, sausage with gravy, homemade cole slaw, fried biscuits, apple butter and sassafras tea (812-988-4554, thenashvillehouse.com).
You can continue our tour of Southern Indiana by following one of three different routes. Drive West on either twisting 45 West or not quite as twisting 46 West to Bloomington, Indiana, home of Indiana University. Aside from famously-outspoken IU basketball coach Bobby Knight and Olympic Gold Medalist Mark Spitz, Bloomington is probably most famous as the setting for Peter Yates' charming 1979 bicycle racing film Breaking Away.
From Bloomington you can take 37 South to 60 to 150 West. For a much more scenic drive, take 446 South through Brown County State Park to 50 West to 37 South to 60 to 150 West. If you'd rather skip Bloomington, from Nashville take 135 South through the State Park to 56 West to 150 West.
All three routes take you to West Baden Springs, Indiana and the West Baden Springs Hotel. Actually, there are two classic hotels in this neighborhood, both restored by Bloomington, Indiana medical equipment billionaires William and Gayle Cook and incorporated into a 3000-acre resort that includes a casino and two golf courses, one designed by Donald Ross, one by Pete Dye. 
The West Baden Springs Hotel dates to 1902. It was restored in 2007 after sitting idle for decades. Just down the road is French Lick Resort, built in 1898 and also restored. The Cooks are said to have lavished $500 million on the two. Both are now Historic Hotels of America and both can be reached through calling 888-936-9360 or visiting www.frenchlick.com.
From French Lick, drive East on 56 to Madison, Indiana. Once you've admired the neatly-restored historic town of Madison – you can even take a ride on an old-fashioned Ohio River sternwheeler – follow Route 56 East and then 156 East along the aptly-named Ohio River Scenic Byway. You'll drive through the quaint riverside towns of not only Madison, but Vevay, Florence, Patriot, Rising Sun, Aurora and Lawrenceburg.
Lawrenceburg is a suburb of Cincinnati, a typical Midwestern city about which you can read somewhere else. To avoid local roads, your best bet is to hop on ring road I-275 whether you want to go into Cincinnati or bypass it. Our next destination is Dayton, Ohio, home of Orville and Wilbur Wright and Wright-Patterson Air Force Base. The easy way to get there from Cincinnati is I-75 to Dayton's ring road I-675.
Before you get side-tracked with wings and things, visit America's Packard Museum in downtown Dayton (937-226-1710, americaspackardmuseum.com). This amazing collection of Packard cars ranging from 1904 till 1958 is housed in a restored Art Deco Packard dealership built in 1917. The cars are cool and the dealership ambience priceless.
In preparation for your trip to Dayton, be sure to read David McCullough's marvelous history The Wright Brothers, published by Simon & Schuster in 2015. I thought I knew something about Orville and Wilbur; I even attended the Centennial of Flight at Kitty Hawk, NC in 2003 as Outdoor Editor of Popular Mechanics. It turns out, I knew nothing. David McCullough knows everything. Read his book.
In Dayton, you can visit Dayton Aviation Heritage National Historical Park, which is dedicated to the homespun heroes who taught the world to fly (937-225-7705, nps.gov/daav). In addition to the modest home in which the Wrights were raised and where they lived until fame caught up with them, you can visit their restored print shop, one of their bicycle shops, a replica 1902 Wright Glider, the Wright's third powered airplane, nearby Huffman Prairie where they perfected the airplane after returning from Kitty Hawk and Hawthorn Hill, the nouveau riche mansion Orville had built after Wilbur died in 1912.
Just 6 miles from Dayton is Wright-Patterson AFB, home to the National Museum of the United States Air Force (937-255-3286, nationalmuseum.af.mil). The Army Air Corps started collecting historical artifacts in 1923; today, there are 400 aircraft and missiles on display in four gigantic hangers. You'll need the whole afternoon for even a cursory look at one of the best and largest aircraft collections in the world. Not to be missed.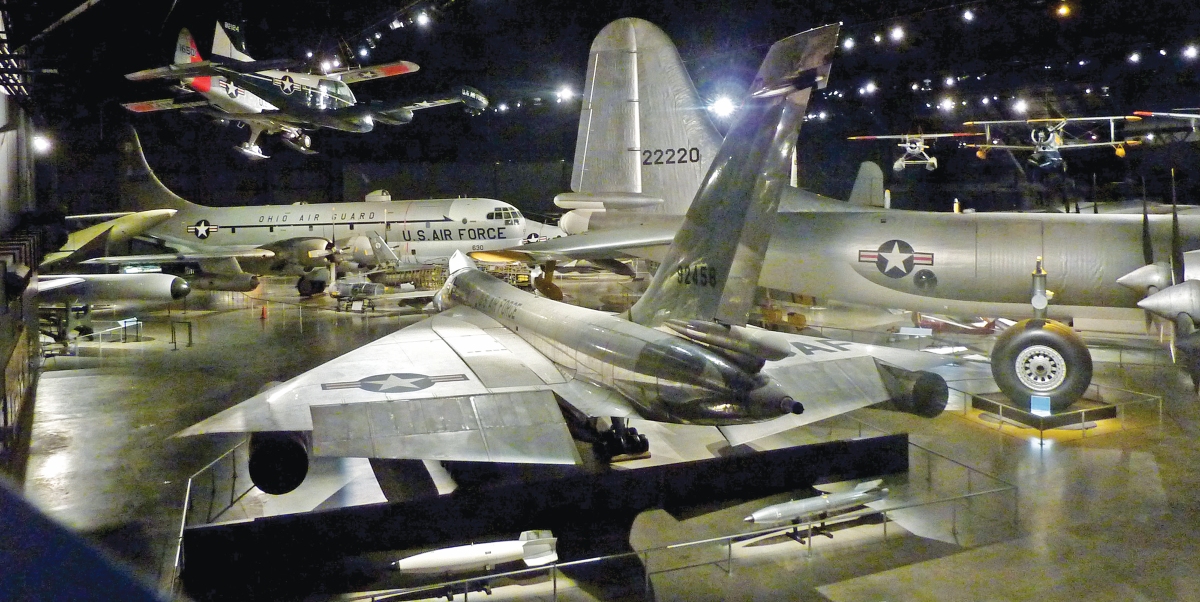 There are vast collections of aircraft from World War I, World War II, Korean War, Cold War, Vietnam and everything since. There are various generations of experimental planes, plus U.S. Presidential planes, including those of FDR, Truman, Eisenhower and VC-137C, the 707 that carried JFK to Dallas and on which LBJ was sworn-in as President on the way back to Washington.
From Wright-Patterson you can take I-70 to I-270 around Columbus, Ohio to I-71 to Lexington and Mansfield, the nearest towns to Mid-Ohio. If you've got a little more time, take Route 4 North through Marysville and Marion, then 309 to Mid-Ohio. Marysville was founded in 1819. It boasts the extravagant 1883 Union County Courthouse, two Honda factories – one for cars, one for motorcycles – a Nestle Research Center and the international headquarters of Scotts Miracle-Gro. Marion was founded in 1822, and boasts President Warren G. Harding's home, the Huber Industries tractor and equipment museum, the Wyandot Popcorn Museum – featuring the world's largest collection of popcorn machines – and a 1928 Palace Theatre, one of the few remaining Spanish Revival movie theatres by architect John Eberson. 
Frankly, much as I love wandering around on rural back roads searching out overlooked bits of Americana, I'd skip Marysville, Marion and Lexington in order to spend more time in Mansfield. For 150 years, Mansfield was a major heavy industry manufacturing center, home to Westinghouse Electric, Tappan Stove, Ohio Brass, Armco Steel and a huge General Motors stamping plant. Most of those factories are gone, but there are still whole neighborhoods in Mansfield filled with substantial homes, mute testimony to the myriad fortunes that were made here.
In the mid-19th century, American architects A.J. Downing and A.J. Davis created what we now call Hudson River Gothic or Carpenter Gothic. One of the finest extant examples is in Mansfield, 1847 Oak Hill Cottage, owned by the Richland County Historical Society (419-524-1765, oakhillcottage.org). On a much grander scale is nearby Kingwood, the estate of Charles Kelly King, CEO of Ohio Brass Company. Some 47 acres of lovely formal gardens surround the 1926 mansion (419-522-0211, kingwoodcenter.org).
Downtown Mansfield has been largely restored. A 1927 "movie palace" has been redone into a home for the Mansfield Symphony, as well as a venue for all sorts of concerts and productions. Now called The Renaissance, the building itself is worth a visit, even when devoid of entertainment (419-522-2726, mansfieldtickets.com). Even more unusual, in 1991 a local company created the first carousel assembled in decades with hand-carved wooden animals. It's now the centerpiece of Richland Carousel Park and a charming work of art (419-522-4223, richlandcarousel.com).
As you might expect, Mansfield offers a wide choice of chain restaurants and motels. But there are some local favorites you won't find on every Interstate. Athens Greek Restaurant has been family-owned for 30 years, has three locations and as the name implies, specializes in Greek dishes (419-524-5620, athensgreekrestaurants.com). Coney Island Diner has been in business since 1936, and as the name implies, specializes in hot dogs (419-526-2669, famousconeyisland.com).
As for unique hotels, check out Mohican Lodge (800-282-7275, mohicanstateparklodge.com), Landoll's Mohican Castle (419-994-3427, landollsmohicancastle.com) or Market Street Inn (330-262-4085, marketstreetinnwooster.com). All three are a roughly 20-mile drive from Mid-Ohio, but one of them might just be your perfect alternative to the name brands.