Event Program: 2023 Trans Am SpeedTour (Road America – July)
Destination: Wisconsin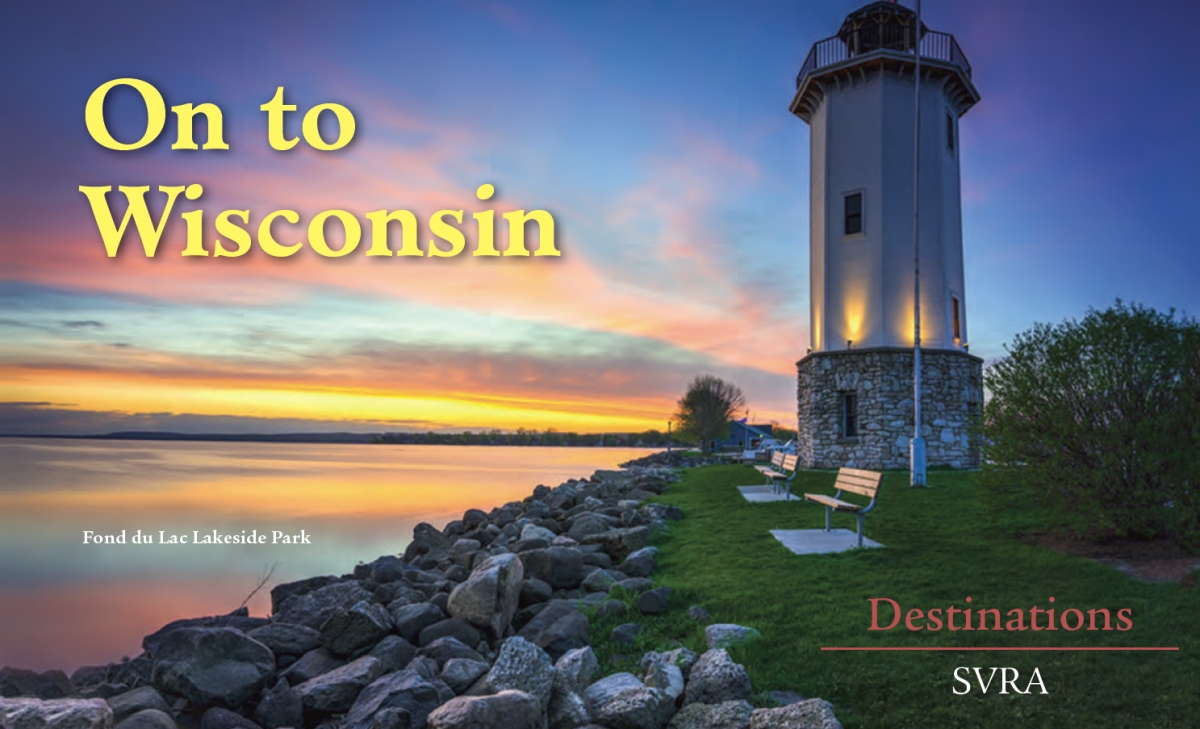 On October 2, 1948, Cameron Argetsinger organized the first SCCA sports car race, through the streets and country roads around Watkins Glen, New York. On July 23, 1950, Jim Kimberly organized a similar SCCA race on a 3.3-mile course in and around the village of Elkhart Lake, Wisconsin. The next two years, the Elkhart Lake course was expanded to 6.5 miles, on County Roads J, A and P. You can still drive both original Elkhart Lake "round the houses" layouts, since they're comprised of public roads. In 1955, at least partly in response to the calamity at LeMans, Cliff Tufte built a 4.048-mile circuit called Road America roughly 4 miles from Elkhart Lake. And thus is immortality born.
There are three luxury hotels relatively near Road America. Osthoff Resort in Elkhart Lake dates back to 1886, but the traditional-style hotel building that replaced the original hotel was built in 1995 (osthoff.com, 855-671-6870). Only 18 miles from the track, are two other big resort hotels. Blue Harbor Resort opened in 2004 with 182 rooms and 64 villas right on the shore of Lake Michigan in Sheboygan, Wisconsin (blueharborresort. com, 920-452-2900).
Sheboygan is where the wealthy Kohler family lived. The John Michael Kohler House was built in 1882, and is now on the National Register of Historic Places. The Kohler family came from Austria, and the brick house has a somewhat European feel. It was given to the Kohler-supported Sheboygan Arts Foundation in 1966. The Arts Foundation also operates the John Michael Kohler Arts Center, 100,000 square feet of galleries, theatres, studios, a museum store and café (jmkac.org, 920-458-6144).
In adjacent Kohler, where Kohler's factories are located, the American Club Resort is a 1918 building that once was a dormitory for workers at Kohler Industries before it was completely transformed into an over-the-top luxury resort (americanclubresort.com, 800-344-2838). The Kohler Design Center has galleries to showcase Kohler's various lines of high-end plumbing fixtures, plus factory tours. Don't laugh…it's all much more upscale, trendy and fun than you'd expect from a Midwest manufacturer of sinks and toilets (kohlerdesigncenter.com, 920-457-3699).
About 28 miles from the track is Fond du Lac, which has a very pretty lakeside park—imaginatively named Lakeside Park—next to a restored downtown. Out by Highway 41, there are some chain motels, including a Holiday Inn Express and Country Inn & Suites. A lovely 20 mile drive along the shore of Lake Winnebago brings you to Oshkosh, Wisconsin.
Oshkosh is where Oshkosh Trucks are still made and also where OshKosh B'gosh overalls were made from 1895 till 2005. Today, of course, B'gosh headquarters have been moved to Atlanta, Georgia, and the clothes are made in Mexico and Honduras. More importantly, the Experimental Aircraft Association's EAA Aviation Museum is still in Oshkosh. The Museum is the center for the annual EAA AirVenture, July 23-28, 2018, but even if the largest airshow in the world is not going on, there's still plenty to see. The museum contains over 200 planes and 20,000 aviation artifacts, ranging from a Wright Flyer to Burt Rutan's Space Ship One. My favorite is Matty Laird's Super Solution biplane, with which Jimmy Doolittle won the 1931 Bendix Trophy (eaa.org, 920-426-4800). 
If you drive back to Elkhart Lake and pick up Route 67 South, you can follow the unique land formation called a Kettle Moraine that gives this area its name. When the Laurentide Ice Sheet retreated about 10,000 years ago, it left a deposit of sediments called a moraine. Buried in the glacial deposits were giant chunks of ice which gradually melted to form depressions in the land which filled with water. These are called kettles. Elkhart Lake and Geneva Lake are among dozens of kettles in the Kettle Moraine.
There's even a 115-mile Kettle Moraine Scenic Drive that goes from Elkhart Lake to Whitewater. It's way too complicated to explain here, but you can download a two-page pdf of the route from the state of Wisconsin. Scenic Drive actually starts at Marsh Turn on the 1950 Elkhart Lake race course, and goes over the 1951/'52 Start/Finish Line. How cool is that!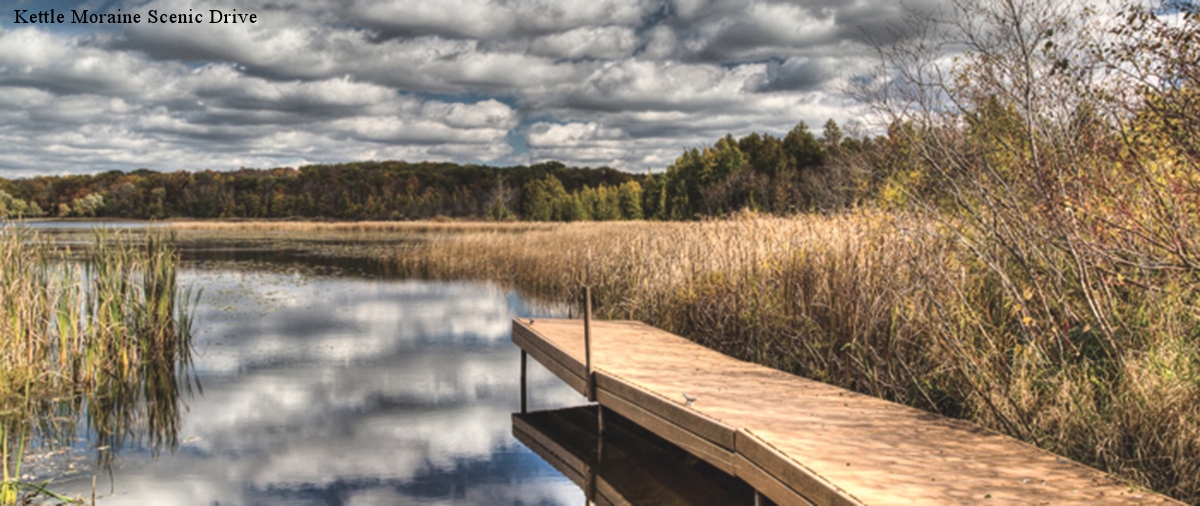 You can contact the Kettle Moraine State Forest for more information, or to rent a rowboat or canoe to paddle on one of the lakes (dnr.wi.gov, 262-626-2116). At the website roadtrippers.com/trips/17519781, you'll find a list of things to see on the Scenic Drive, including the Wisconsin Auto Museum in Hartford, 50 miles from Elkhart Lake. The collection contains many different marques, but specializes in Nash. There's also a neat 1913 Alco 2-8-2 Mikado steam locomotive (wisconsinautomuseum.com, 262-673-7999). You can easily make a day out of the Scenic Drive and Auto Museum.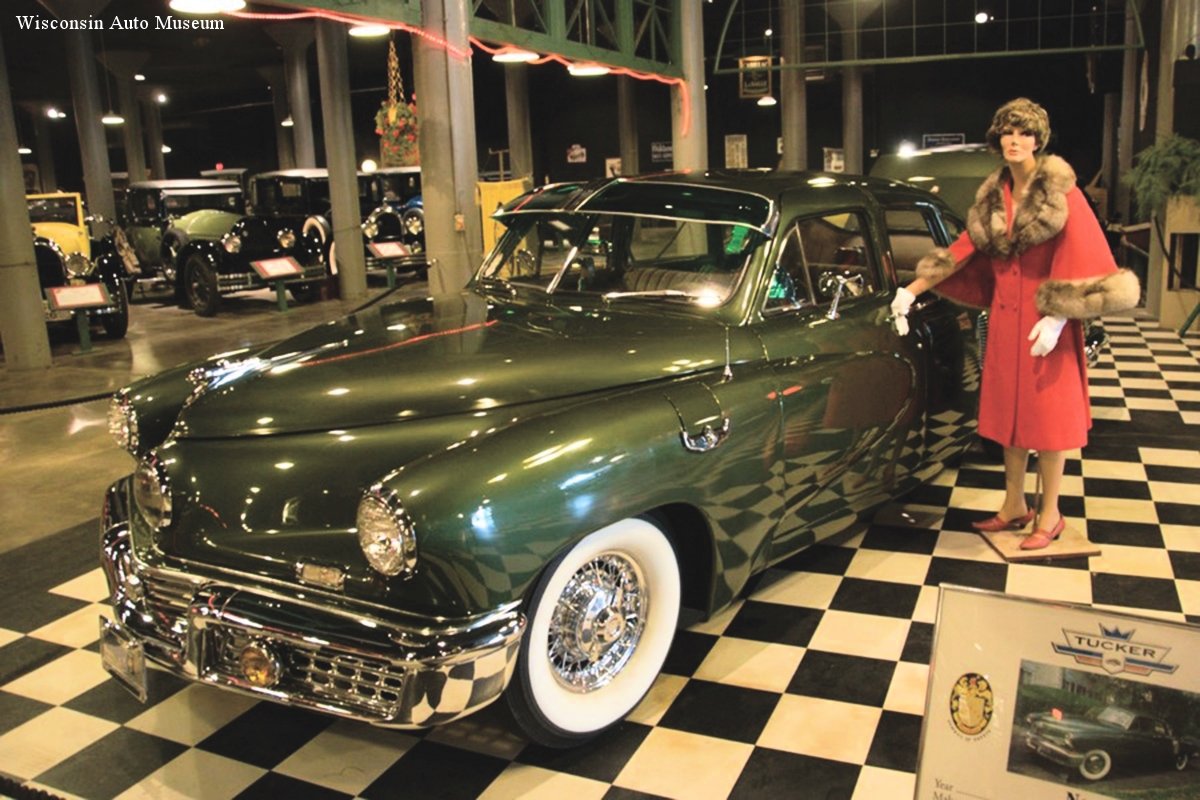 Most of us get to Road America by driving North from wherever we are. If you go by way of Milwaukee, which is 60 miles South of Elkhart Lake, you must stop at the new Harley-Davidson Museum. Built in 2008, this comprises three modern buildings on 20 acres containing 450 Harley-Davidsons plus literally hundreds of thousands of rare Harley artifacts (harleydavidson.com, 877-436-8738). Not to be missed!
If you're up for a longer drive, Frank Lloyd Wright's Taliesin is 135 miles from Road America in Spring Green, Wisconsin (taliesinpreservation.org, 608-588-7900). Taliesin was originally built in 1911, then partially rebuilt again in 1914 and 1925. Wright finally moved in permanently in 1928, though he wintered in Taliesin West in Scottsdale from 1937 until his death in 1959. Wright was so important to American architecture that Taliesin is both a National Historic Landmark and a UNESCO World Heritage Site. There are half-a-dozen Wrightdesigned buildings on the site, plus the BMO Bank in Spring Green, designed by William Wesley Peters to Wright's concepts and finished in 1972.