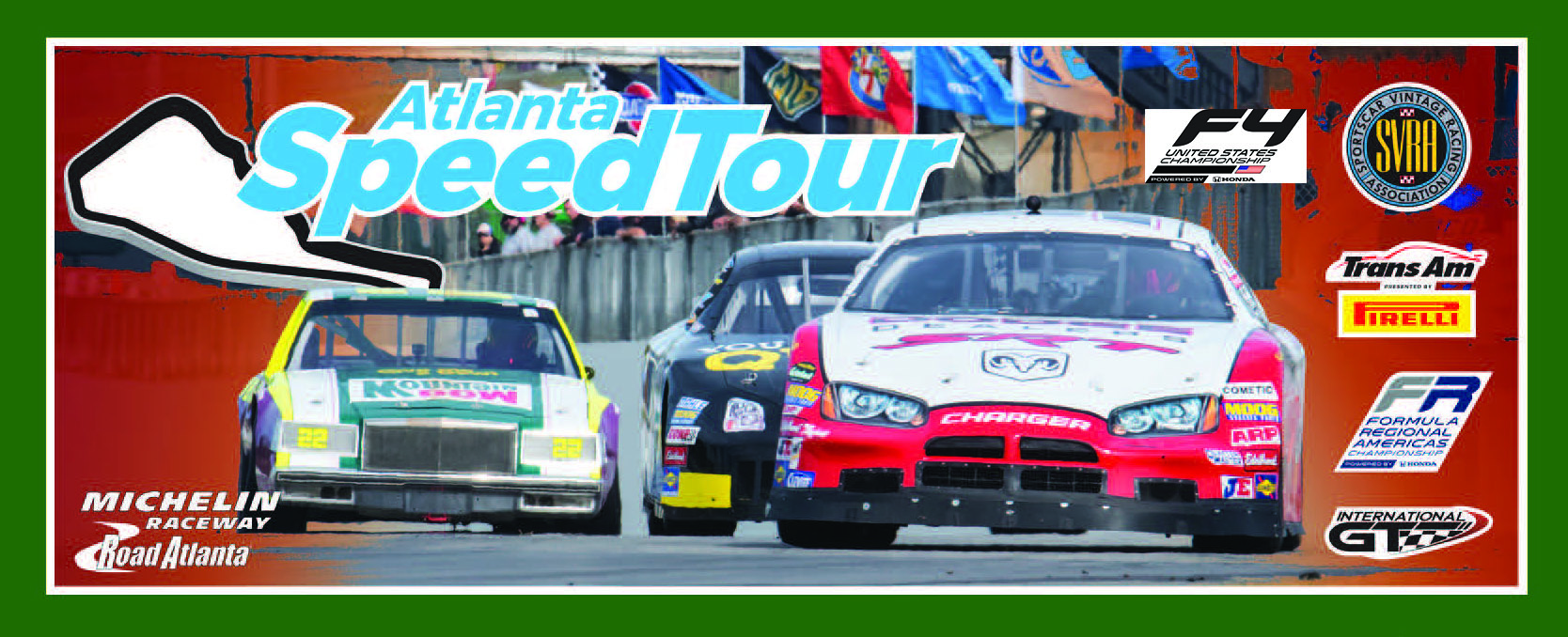 Event Program: 2021 Atlanta SpeedTour
History of Trans Am at Road Atlanta
The Trans Am presented by Pirelli competes at Michelin Raceway Road Atlanta for the 28th time on March 26-28, continuing a legacy that spans five decades.
Trans Am has been an annual staple on the Road Atlanta schedule since 2009, running annual events in addition to having two feature races in both 2012 and 2020.
Amy Ruman leads five three-time winners, capturing the 2011, 2015 and 2016 events driving a Corvette. Ernie Francis Jr. won three straight times in different classes (TA3 American Muscle in 2015, TA4 in 2016 and TA in 2017).
"Winning my first Trans Am at Road Atlanta was a real big deal for myself, my family and the team," Ruman said. "It was a proud moment to deliver a win for McNichols, that backed my team for so long. We've got a few other wins, podiums and good finishes there. It's a fun track – very technical and very exciting. You've got to hit your marks. Also, there are a lot of great fans that come out. It always makes for a great weekend."
Tony Ave won in 2010, the 2012 opener and 2013, while Cameron Lawrence was the TA2 winner in the 2012 second race, 2013 and 2015. Mike Skeen scored his first-career TA2® triumph in 2011, and swept the two 2020 events.
"Road Atlanta is one of my favorite places," Ave said. "We're going to go there with an eye toward recapturing some of the success we've had there. I've won a bunch of races at Road Atlanta, I helped Doug Peterson win a race there, and hopefully we'll have our usual success there. It's a great race track. We usually get a great turnout of cars. Drivers have to go in there really committed, because there are a few blind corners, and you've got to have a good motor in it, too."
Two-time winners in recent years include competitors Chris Dyson, Doug Peterson, Tony Buffomante, Rafa Matos and Randy Kinsland.
Martin Ragginger and Dyson swept the 2020 TA weekend, while Dyson also won in 2018.
Trans Am debuted at Road Atlanta on April, 15, 1973, with Peter Gregg winning in a Brumos Porsche Carrera RS. Al Holbert was second in a Carrera RSR, followed by the pole-winning Corvette of Marshall Robbins
The next visit to Road Atlanta was in 1982, won by Jerry Hansen in a Corvette. There were five more races in the 1980s: 1984, won by Darren Brassfield in a Corvette; 1986, won by Chris Kneifel in a Mercury Merkur XR4Ti; 1987, Pete Halsmer, in a Merkur XR4Ti, with Paul Newman turning the fastest race lap in a Nissan 300ZXT; and 1989, Dorsey Schroeder in a Ford Mustang. Jack Roush was winning car owner for the latter three events.
The 1990s hosted four races. Ron Fellows won in 1993, in a Mustang owned by Tom Gloy. Scott Pruett captured the 1994 event, winning from the pole in a Buz McCall Camaro, while Tommy Kendall won in 1995 in a Roush Mustang. The next event was in 1999, won by Chris Neville in a Huffaker/Kvale Mustang, while popular Boris Said won in 2002, driving a Panoz Esperante.
Trans Am's next visit came in 2009, won by Greg Pickett in a Jaguar – and the series has occupied a key position on the Michelin Raceway Road Atlanta schedule every year since then.