Event Program: 2023 Road America SpeedTour
Road America Getting Better All Of The Time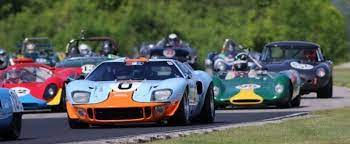 Revving engines, high-speed thrills, and beautiful scenery – welcome to Road America, one of the most iconic racetracks in the United States. With its rich history and picturesque location in Elkhart Lake, Wisconsin, Road America has been a favorite destination for racing enthusiasts for over 65 years.
And now, with its newest improvements, Road America is better than ever before. From Wood Carvings to Paddock lighting to the Carousel Viewing Trail, there is no shortage of exciting new features to explore.
One of the most striking additions to Road America is the wood carvings located throughout the property. These beautiful pieces of art are the work of artist Ben Buschke, from Manawa, Wisconsin, who has been creating wood carvings for many years. From bears to eagles to wolves, Ben's carvings capture the spirit of the Wisconsin wilderness and add a unique and memorable touch to the Road America experience.
Another exciting improvement to Road America is the paddock lighting provided by Wisconsin Lighting Lab. This innovative lighting system illuminates pit lane and the paddock area, providing a safe and inviting environment for drivers, teams, and fans alike. With its bright and energy-efficient LED lights, the paddock lighting system is a testament to Road America's commitment to sustainability and safety.
But perhaps the most exciting new addition to Road America is the Carousel Viewing Trail. This walking path (also golf cart accessible) circumnavigates turns nine and ten, providing fans with an unparalleled view of the action. Whether you're a die-hard racing fan or just looking for a fun and unique way to experience the beauty of Road America, the Carousel Viewing Trail is not to be missed.
But for those who prefer a more traditional racing experience, Road America has plenty of exciting viewing areas to explore. One of the newest and most popular is "The Beach," a casual and relaxed sandy escape located near Turn 11. With its comfortable grandstand seating, palm trees, and excellent vantage point, The Beach is the perfect spot to soak up the sun and experience the thrill of the race.
And of course, no racing experience would be complete without great food and drink. Road America offers a wide variety of concessions, from classic Wisconsin fare like bratwurst and cheese curds to amazing options like truffle mac & cheese and roasted corn on the cob. With something for every palate and budget, Road America's concessions are sure to satisfy.
All in all, Road America is a must-visit destination for racing fans and nature lovers alike. With its stunning natural beauty, rich history, and world-class amenities, there's something for everyone at America's National Park of Speed. So what are you waiting for? Come for the experience and stay for the race at Road America!