Event Program: 2021 Portland SpeedTour
The Kastner Cup Honors The Legacy of Kas Kastner

The Triumph factory didn't believe Kas Kastner could squeeze over 150hp out of a TR4 engine until Kas sent them one of his engines that sang to a tune of 152hp on Triumph's own factory dynamometer. Kastner had a knack for pushing more HP out of a Triumph engine than anyone could have ever imagined.
In 1953, Kas Kastner ran his first race in a home-built MG Special on the streets of Aspen, CO, winning Second overall and First in class. His first race in a Triumph was the next year at Steamboat Springs.
He moved to California in 1956 and went to work for Cal Sales, the Triumph distributor for the western US.  He was mechanic and eventually became their service and parts supervisor.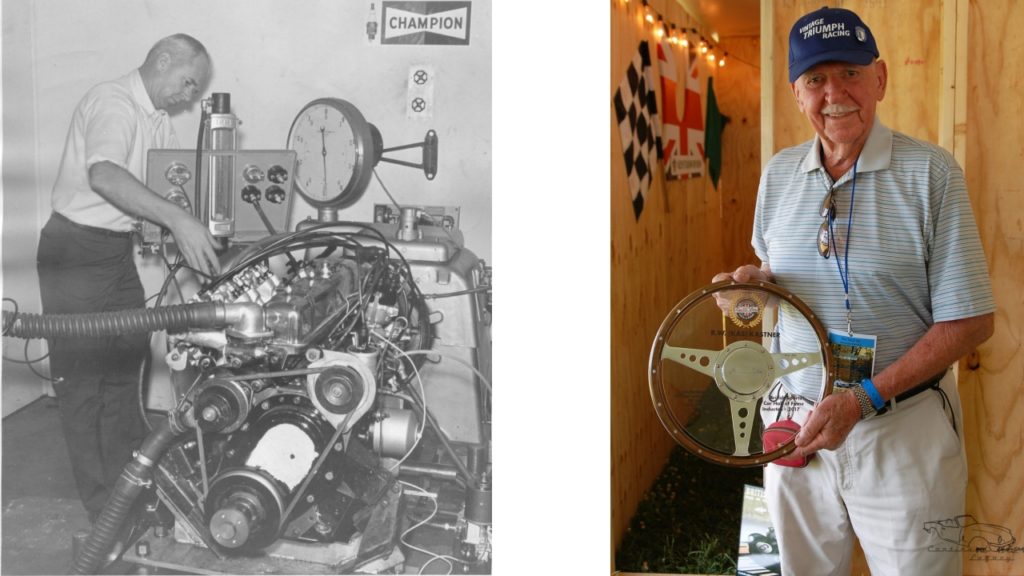 Kas Kastner was an author of many Triumph manuals, instructing how to tune and prepare Triumph cars for racing. He developed many performance parts. Kastner continued to race, winning the SCCA National title and E-Production Championship with the California Sports Car Club. He became the SCCA National Licensing Chairman and was a chief instructor for CSCC at Riverside Raceway. He also won SCCA's annual award for Best Technical Article in 1963.
In 1963, Kastner prepared three stock TR4s for the 12-Hours of Sebring, bringing home First, Second, and Fourth places in the 2.5 GT Class. Asking Triumph for compensation for preparing the race cars, the president of Triumph refused.
Then, Carroll Shelby, offered him a large increase and a position in his company. Triumph matched Shelby's offer and asked Kas to establish and run the new US Triumph Competition Department, Kas decided to stay with Triumph.
Bob Tullius was Kastner's principal driver, together they won the SCCA E-Production title won the D-Production class twice. Kastner prepared three TR4s to run the five-day Shell 4000 Rally, winning the GT Team prize.
Kas prepared four TR4s to return to Sebring, in 1966. They took First, Second, and Third in the 2.5 GT Class. This was about the time of the new TR4A with independent rear suspension (IRS), which the SCCA did not homologate, but instead would allow in the D-Modified Class, so Kas made a special "Super Stock" TR4A that boasted alloy wheels and fiberglass panels, lowering the weight to 1700lb with a 160hp engine. It won the 1966 D-Modified National Championship.
Kastner was involved with many projects, including the Macau Spitfire and the TR250K with renowned designer Peter Brock. He also worked with Carroll Shelby on the Shelby ME 2.2 Turbo which did not reach production.
Kastner left Triumph in 1970. Shortly after, he formed Kastner Brophy Racing, racing two TR6s, a Spitfire, and a GT6 with partner John Brophy. They later fielded the 245hp, Vitesse "Candy Box" in the Trans-Am series.
Kas became vice president and general manager of Roy Woods Racing during their involvement in the Can-Am, Formula 5000 and three Indy 500 races.
Kas Kastner went on to change the Nissan name forever as well. Put in charge of Nissan's off-road truck, amateur racing, showroom stock racing and the wavering GTP programs, Kastner and his team made significant changes that led to great motorsports success. Team Nissan GTP won the driver's championship four years in a row, the manufacturer's championship three years in a row and in 1988, won eight consecutive GTP events.
Years later, Kastner got involved in vintage racing. In 2016, Kastner received the Harry Webster award for his contributions to Triumph and was inducted into the British Sports Car Hall of Fame in 2017.
Kas Kastner's life was paved with successes and accomplishments that changed racing, particularly Triumph and Nissan as we know them. He had a hand in developing Triumph's reputation as a winning sports and racing car. His preparation and performance manuals remain sacred for vintage racers.
Kas Kastner fought a battle with cancer and died on April 11th, 2021 at the age of 92. We celebrate him with the 2021 Kastner Cup this weekend.