America's first step on the FIA development ladder and the Road to F1, Formula 4 United States Championship Powered by Honda (F4 U.S.), was designed to help young talent move from karting into single-seater race cars.
After the Fédération Internationale de l'Automobile (FIA) launched the global Formula 4 Championship concept in 2014, SCCA Pro Racing joined forces with the FIA to bring the model to the United States in 2016.
Designed to be a globally-recognized yet affordable step between karting and the FIA Formula Regional Championship, the spec series uses locally-sourced components to aid in both affordability and availability. The Ligier JS F4 chassis is manufactured in Denver, N.C., while the 160-horsepower Honda Civic Type R engine is built in Anna, Ohio and Hankook Tires are marketed and distributed out of Nashville, Tenn.
Any given year, 75% of the F4 U.S. field is comprised of drivers who recently graduated from karting and are still early in their single-seater race experience. Open to drivers as young as age 15, the championship focuses on providing competitors learning opportunities that will prepare them to move up the open wheel ladder. The spec series allows both multi-car or single-car teams equal opportunity for success with capped costs; however, the cars allow for significant setup adjustments, which increases the drivers' technical knowledge to help them advance through their careers. This unique approach is one of the primary reasons drivers choose F4 U.S. as a series to build their foundational experience.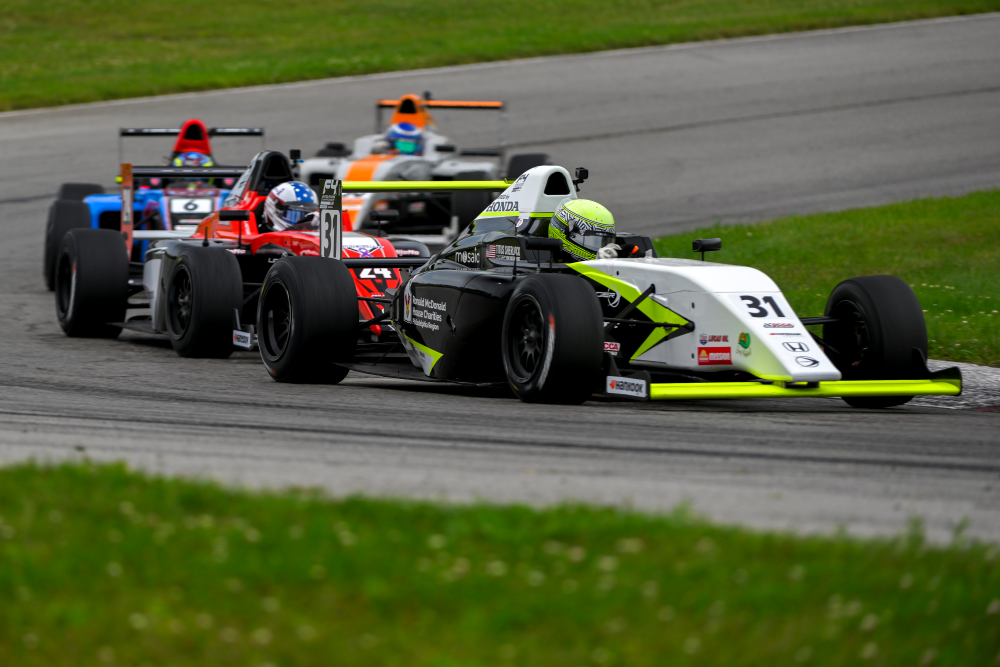 In 2021, F4 U.S. became part of SpeedTour motorsports festivals through Parella Motorsports Holdings' (PMH) purchase of the championship's commercial rights. The agreement has provided F4 U.S. the opportunity to get in front of new fans and sponsors, and has also opened up various scholarships and programs to help more drivers get behind the wheel.
The PMH Powering Diversity Scholarship was established in 2021 as a way to create a more diverse field of drivers at the grassroots level, while specifically assisting both female and minority drivers looking to get into the sport. Likewise, the Radford Racing School F4 U.S. Scholarship Award School launched in 2022 to help four of the top karters from around the world gain experience in an F4 U.S. car—with two of them competing in this year's championship.
Find out more information on F4 U.S. by taking the next step: