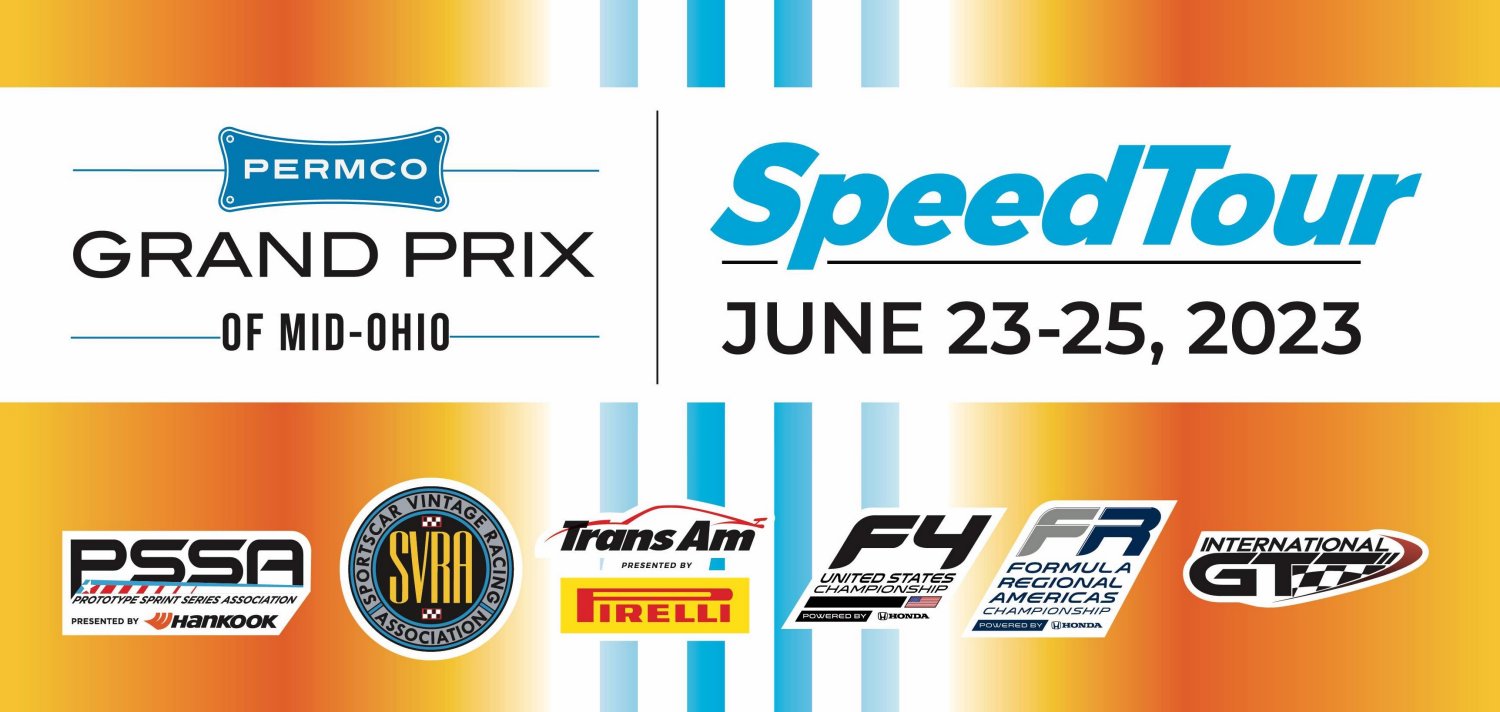 Event Program: 2023 Mid-Ohio SpeedTour
Race Preview: FR Americas & F4 U.S.
Event Preview:
FR Americas and F4 U.S. Championship at Mid-Ohio
Approaching Season's Halfway Point at Mid-Ohio
Formula Regional Americas Championship Powered by Honda (FR Americas) and Formula 4 United States Championship Powered by Honda (F4 U.S.) head to Mid-Ohio Sports Car Course for Rounds 7, 8 and 9. With the season quickly approaching its halfway point, the competition is heating up as drivers and teams vie for championship titles.
Mid-Ohio has been a mainstay on both the FR Americas and F4 U.S. annual schedules. F4 U.S. has visited the Ohio road course more than any other circuit, visiting twice during its inaugural 2016 season and coming back every year since. FR Americas only missed the trip to Mid-Ohio once since the series' inception, making this year's trip its fifth to the 2.24-mile track.
Meet the Drivers of FR Americas and F4 U.S.
Fans will have the opportunity to meet the drivers of both FR Americas and F4 U.S. during an autograph session on Saturday afternoon. The event is scheduled for 2 p.m. in the FR/F4 paddock, just across from the series trailer and near the souvenir stands.
Watch this Weekend's Races Free on Social
Fans at home will be able to watch this weekend's FR Americas and F4 U.S. races free on social media, with streaming available on each series' respective YouTube and Facebook pages, as well as on the SpeedTourTV YouTube page (YouTube.com/SpeedTourTV). Be sure to subscribe and click the bell icon to turn on notifications for the channel to receive an alert any time SpeedTourTV goes live.
FR Americas Championship Powered by Honda
Racing for a SUPER FORMULA Scholarship
Callum Hedge (No. 17 Crosslink Kiwi Motorsport Ligier JS F3) has turned up the heat in the 2023 championship battle, amassing four-straight wins after a weekend sweep at Road America in the series' last round. Despite that, Ryan Shehan (No. 66 Crosslink Kiwi Motorsport Ligier JS F3) continues to apply pressure with six podium finishes, including two wins, in the series' six events to date. Just four points separate the top two drivers as their teammate Cooper Becklin (No. 19 Crosslink Kiwi Motorsport Ligier JS F3), who is 41 points behind Shehan, has a firm grip on third place, with a 16-point gap to fourth. The 2023 FR Americas championship-winning driver will earn a scholarship from Honda Performance Development and Honda Racing Corporation to compete in the 2024 SUPER FORMULA season. Valued at up to $600,000, the scholarship covers a substantial portion of the cost to run a full season, and includes an engine supply to run with a Honda-powered team selected by Honda.
Moving On Up
After making the switch to the Velocity Racing Development (VRD) camp ahead of the series' last round, Cole Kleck (No. 11 VRD Ligier JS F3) will move up from F4 U.S. competition to join the FR Americas ranks this weekend at Mid-Ohio. Kleck's best finish in F4 U.S. competition is fifth, which he recorded at Circuit of The Americas last fall.
Frequent Flier On and Off The Track
Callum Hedge is not only logging the miles on the racetrack this year, but the 19-year-old is also raking in the air miles. Just last week, Hedge traveled from his home in Auckland, New Zealand to Darwin, Australia where he competed in the Porsche Carrera Cup Australia. Recording two runner-up finishes and one fourth-place result, Hedge then boarded his flight home to New Zealand before once again taking off for this weekend's round at Mid-Ohio the very next day. With a 13-day span from when Hedge left for Darwin until he returns from Mid-Ohio, the driver will have logged a total of 49 hours—more than two entire days—in the air. More importantly, though, to any race car driver, Hedge is scheduled to see six checkered flags over that 13-day period.
Family-Owned Team Racing at Home
Frankfort, Ohio native Austin Hill (No. 8 SoOhio Equip/Alum Trailers/Ferris Mowers/Big Tex Trailers/PJ Trailers/CM Truck Ligier JS F3) will travel 100 miles north to Mid-Ohio this weekend with his family-owned team, Austin Hill Motorsports. The 16-year-old is in the midst of a busy race season, where he's competing not only in FR Americas, but also Formula Race Promotions, Mazda Spec MX-5 Challenge and the Trans Am Series' XGT class. The family business that sees Hill behind the wheel also has him turning wrenches to perform the weekly maintenance on the cars. Tracy Stevens, who has worked with Hill since he started go-karting as an 8-year-old, acts as the crew chief, while Hill's father, Andy, drives the rig to and from the racetrack. Hill has a pair of top-10 finishes, including an eighth-place result at both NOLA Motorsports Park and Road America.
F4 U.S. Championship Powered by Honda
FR Americas Scholarship on The Line
Despite only beginning his transition from go-karts to single-seater race cars six months ago, Patrick Woods-Toth (No. 27 Crosslink Kiwi Motorsport Ligier JS F4) continues his charge toward the 2023 F4 U.S. Driver's Championship title. The 19-year-old broke through at Road America to earn his first two F4 U.S. feature race wins after a string of podium finishes at NOLA during the season opener. With six rounds of the championship complete, Woods-Toth has five podiums and a 22-point lead over second-place Jesse Lacey (No. 16 Crosslink Kiwi Motorsport Ligier JS F4). Currently sitting third in points is Michael Costello (No. 19 Jay Howard Driver Development / CSU One Cure / Lucas Oil / LHP Ligier JS F4). The 16-year-old Pennsylvanian earned his first F4 U.S. win just last month at Road America. At the conclusion of the season, the 2023 F4 U.S. Champion will be given the opportunity to move to FR Americas in 2024 with support from Ligier Automotive, Hankook Tires and Parella Motorsports Holdings. In addition, the champion will also receive $25,000 from Honda Performance Development, along with several other prizes.
Atlantic Racing Team Makes their Debut
After announcing their intention to join F4 U.S. competition last season, Nova Scotia-based Atlantic Racing Team has signed James Lawley to pilot the No. 77 Kartbahn Ligier JS F4. Founded in 1989, the organization has competed in no less than a dozen different race series around the globe. Lawley has teamed with the Atlantic Racing Team for his last few racing ventures, including starts in the Formula Pro USA Western Championship, Formula Pro USA Winter Series and Skip Barber Formula Race Series.
Dobson Moves Up from SpeedTour Formula Development
While most kids look forward to their 16th birthday, the magic number for Ava Dobson (No. 21 Jay Howard Driver Development / CSU One Cure / Lucas Oil / LHP Ligier JS F4) was actually 15. The milestone birthday meant that the SpeedTour Formula Development driver would meet FIA requirements to be 'age eligible' for F4 U.S. competition. After celebrating her birthday on June 9, Dobson will officially join F4 U.S. competition this weekend at Mid-Ohio. A 2023 recipient of the PMH Powering Diversity Scholarship, Dobson took advantage of the SpeedTour Formula Development Series to compete at both NOLA Motorsports Park and Road America, while gaining valuable seat time in her Ligier JS F4.
New Drivers on the Grid
Four drivers will be making their first F4 U.S. start at Mid-Ohio. In addition to Lawley and Dobson, Christian Cantu (No. 88 Scuderia Buell Ligier JS F4) joins Scuderia Buell to race in F4 U.S. after winning two of the opening six races of the 2023 NACAM F4 Championship in Mexico. Jett Bowling (No. 02 Crosslink Kiwi Motorsport Ligier JS F4) will also join the grid, completing Crosslink Kiwi Motorsport's field of seven F4 U.S. entries. The Dallas native is also enrolled at Texas A&M, where he is a member of the Class of 2027. .