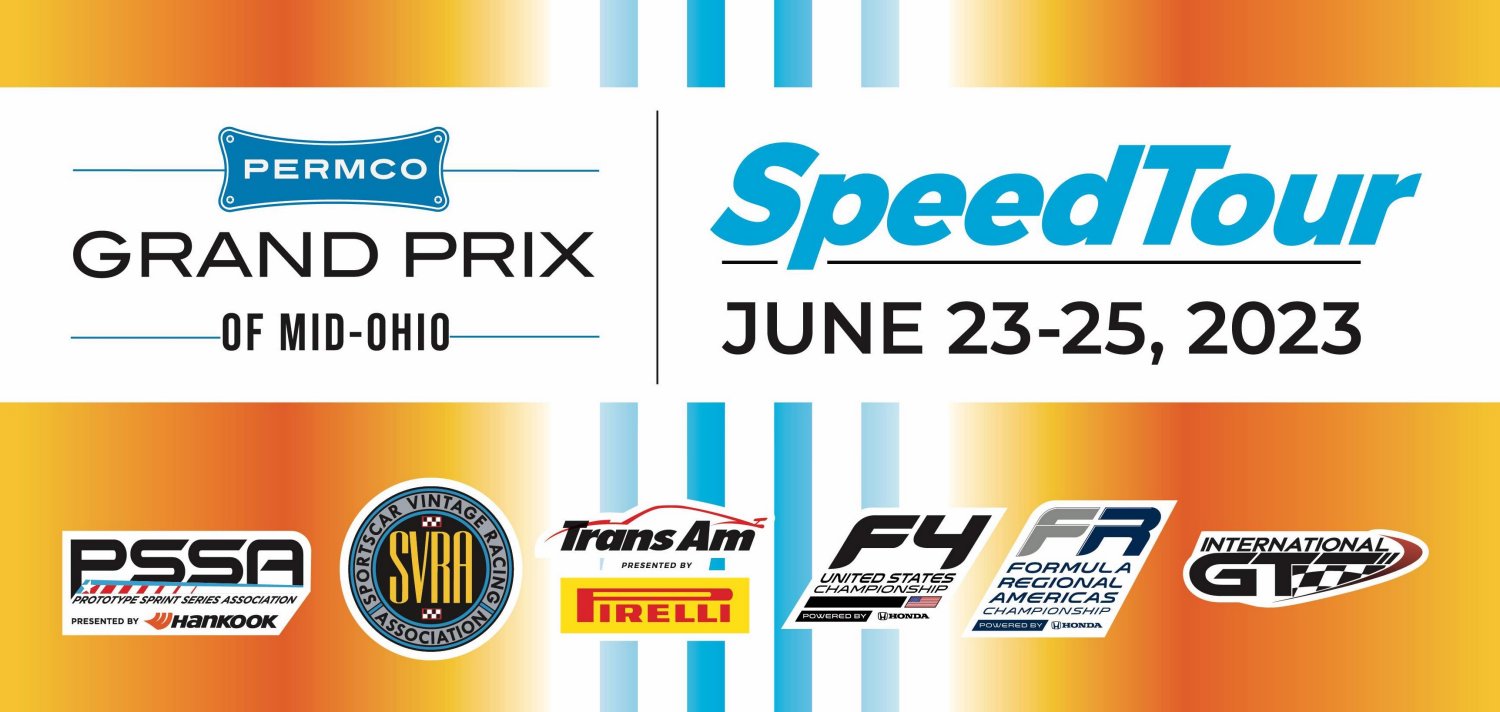 Event Program: 2023 Mid-Ohio SpeedTour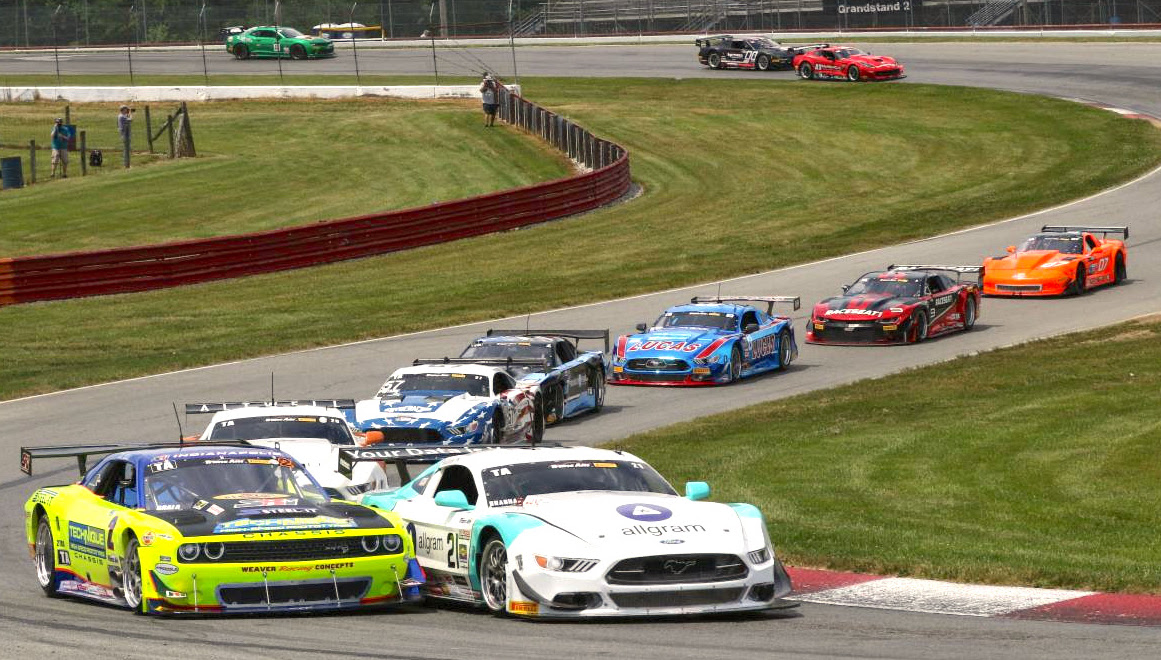 Mid-Ohio Sports Car Course
3-Dimensional Services Group Classic
Together Again at Mid-Ohio
The Trans Am Series presented by Pirelli heads to Mid-Ohio Sports Car Course for the first official race of the summer. TA/XGT/SGT/GT competitors are reunited with the Big Machine Vodka SPIKED Coolers TA2 Series for the first time since last month's race at Lime Rock Park following two standalone events. TA2 most recently competed in a doubleheader at the new Detroit Grand Prix course on the downtown streets, and the TA and production classes come to Ohio straight from Indianapolis Motor Speedway, where they competed at the Brickyard last weekend for the first time since 2019. This weekend's two races will officially close out the first half of the 2023 season for competitors in all classes.
Past Winners at Mid-Ohio
Nine drivers on this weekend's entry list have tasted victory at Mid-Ohio. Thomas Merrilland Rafa Matos have the most victories at the track, tied at two each. Milton Grant scored the first win of his Trans Am career in last year's event before going on to become the 2022 SGT champion.
TA
Matthew Brabham, No. 20 GYM WEED Ford Mustang (2022)
Chris Dyson, No. 16 GYM WEED Ford Mustang (2021)
SGT
Milton Grant, No. 55 Springhill Suites/Sentry Self Storage Porsche 991.1 GT3 Cup (2022)
Lee Saunders, No. 84 LandSearch LLC Dodge Viper (2014)
GT
Todd Napieralski, No. 39 Chevrolet Camaro (2013)
TA2
Thomas Merrill, No. 26 Bennett/HP Tuners/Mike Cope Race Cars Mustang (2022, 2020)
Rafa Matos, No. 88 3-Dimensional Services Group Ford Mustang (2021, 2018)
Adam Andretti, No. 41 Ultimate Headers Chevrolet Camaro (2014)
Doug Peterson, No. 87 3-Dimensional Services Group Ford Mustang (2014, TA)
Ohio Locals Come Home
Three drivers on this weekend's entry list call the state of Ohio home. Amy Ruman's hometown of Stow, Ohio is closest to the track, less than an hour and a half away from the Lexington, Ohio venue.
TA
Amy Ruman, No. 23 McNichols Co./Valley Automotive Group Chevrolet Corvette (Stow)
David Pintaric, No. 57 Kryderacing Ford Mustang (Canfield)
TA2
William Moore, No. 33 Hawk/Swift Filters Chevrolet Camaro (Chagrin Falls)
Dyson and Brabham Battle for Top Spot
Following last weekend's race at Indianapolis Motor Speedway, CD Racing owner and two-time champion Chris Dyson in the No. 16 GYM WEED Ford Mustang and his teammate Matthew Brabham in the No. 20 GYM WEED Ford Mustang sit first and second in the TA points, with Brabham just one point behind Dyson. The two competitors have been neck and neck all season, with each scoring two wins. Brabham has the slight edge when it comes to qualifying, earning two Motul Pole Awards to Dyson's one.
CD Racing has been dominant so far this year, with four wins and three 1-2 finishes in just five TA races. The team has won every race this season with the exception of Lime Rock Park, which was won by Justin Marks in the No. 99 Trackhouse Chevrolet Camaro.
Amy Ruman at Home with New Sponsor
Two-time champion Amy Ruman is feeling at home this weekend at Mid-Ohio, which isn't too far from her hometown of Stow, Ohio. Currently fifth in the point standings, Ruman recently welcomed aboard a new sponsor, Valley Automotive Group, which debuted on her No. 23 McNichols Co./Valley Automotive Group Chevrolet Corvette last weekend at Indianapolis Motor Speedway and returns for this weekend's hometown race. Valley Automotive Group is a leading car and truck dealership network with locations throughout Ohio and Michigan.
"We could not think of a better person to sponsor than Amy," said Christopher O'Donnell, Chief Operating Officer and Vice President of the Valley Automotive Group. "Amy embodies the positive, hardworking, never-quit attitude of our companies and she is a fantastic ambassador to the sport."
Ruman has made 11 starts at Mid-Ohio, with a best finish of second in June of 2012.
David Pintaric a Hometown Hero
Another local driver this weekend is David Pintaric in the No. 57 Kryderacing Ford Mustang from nearby Canfield, Ohio. Pintaric scored a third-place finish at Mid-Ohio last season in a triumphant return after a three-race hiatus. Pintaric battled both a recuperation from COVID-19 and mechanical issues in the early part of last season, but his health and his racecar both seemed to be fully recovered at Mid-Ohio. Pintaric's best finish at his home track is second, which he earned in 2016. The Ohio driver currently sits fourth in the TA standings.
New & Familiar Faces
This weekend's race will see the return of several familiar faces. Boris Said in the No. 2 Weaver/Householder/Technique Dodge Challenger will be making his third start of the season, as will Wally Dallenbach in the No. 4 Ultimate Headers Ford Mustang in the TAH class.
This weekend will also see two GT drivers making their first starts of 2023: 2013 GT winner Todd Napieralski in the No. 39 Chevrolet Camaro, and Jack Rinke in the No. 12 Chevrolet Performance Chevrolet Camaro.
One new face in the National Championship garage is Will Rodgers, who will be pulling double duty this weekend, driving the No. 32 Chris Evans Race Cars & Design Chevrolet Camaro in the XGT class, as well as the No. 90 Nitro Motorsports Ford Mustang in TA2. Rodgers has two XGT victories in just two Western Championship starts, winning the overall races at both WeatherTech Raceway Laguna Seca and Sonoma Raceway earlier this year.
Big Machine Vodka SPIKED Coolers TA2 Series
Triple Track Tournament
The inaugural 3-Dimensional Services Group Triple Track Tournament kicked off for Big Machine Vodka SPIKED Coolers TA2 Series competitors at the Detroit Grand Prix with the 3-Dimensional Services Group Muscle Car Challenge and the 3-Dimensional Services Group Motor City Showdown. This three-track, four-race points challenge will award the competitor who accrues the most points in the four 3-Dimensional Services Group-sponsored events with a custom trophy. Brent Crews in the No. 70 Franklin Road/Mobil 1 GEARWRENCH Ford Mustang came out on top following the Detroit doubleheader, currently leading 2022 champion Thomas Merrill.
The top five is bound to see a shakeup after this weekend, as Thomas Annunziata in third, Misha Goikhberg in fourth and Justin Marks in fifth are all absent from the TA2 entry list for this weekend's 3-Dimensional Services Group Classic at Mid-Ohio. The Triple Track Tournament trophy will be awarded following the 3-Dimensional Services Group 100 at Road America on July 6-9.
1. Brent Crews (174)
2. Thomas Merrill (158)
3. Thomas Annunziata (145)
4. Misha Goikhberg (144)
5. Justin Marks (142)
6. Barry Boes (141)
7. Connor Zilisch (133)
8. Caleb Bacon (132)
9. Josh Sarchet (129)
10. Austin Green (126)
Is Mid-Ohio a Must Win for Championship?
Every race of the season is important, with valuable points on the line for championship contenders. However, Mid-Ohio seems to be an especially important piece of the puzzle in the Big Machine Vodka SPIKED Coolers TA2 Series. In four of the last five seasons, the winner at Mid-Ohio has gone on to win the championship. Rafa Matos in the No. 88 3-Dimensional Services Group Ford Mustang went on to take the title after his victory at Mid-Ohio in both 2018 and 2021. Marc Miller, who is not entered this weekend, won the championship in 2019 after his Mid-Ohio win. Most recently, Thomas Merrill in the No. 26 Bennett/HP Tuners/Mike Cope Race Cars Ford Mustang used the momentum he built by winning back-to-back races at Lime Rock Park and Mid-Ohio to propel him in the championship fight, proving that every point counts by winning the championship in a tie at Circuit of The Americas in 2022.
Rodgers In for Annunziata
Thomas Annunziata is absent from this weekend's entry list due to a commitment to compete in the Mazda MX-5 Cup race at Watkins Glen International. However, his seat won't go unfilled, as Will Rodgers will get behind the wheel of the No. 90 Nitro Motorsports Ford Mustang. Rodgers serves as Brent Crews' driver coach, and recently made a splash in the Western Championship by winning the pole and overall race in his first two career Trans Am starts.
Youth Movement
Looking at the TA2 point standings, there's no question that this season's championship is going to come down to a battle between two experienced former champions and the Young Guns. Brent Crews and Connor Zilisch have won four of Trans Am's six TA2 races this season. With an average age of 15.5, Crews, 15, and Zilisch, 16, have both earned a pole, are running up front, and are closing the deal to tally the points necessary to put them in the top three in the standings. The only two that can stand in their way are champions Thomas Merrill, 37, and Rafa Matos, 42. The skilled pair have won the remaining two events this season, as well as a pole apiece.
TA2 News & Notes
Boris Said Jr. returns to the TA2 class following an absence in Detroit with a different look this weekend, driving the No. 60 Nitro Motorsports Ford Mustang at Mid-Ohio.
The challenge of the doubleheader Detroit Grand Prix resulted in some new faces at the front of the field. Thad Moffitt in the No. 43 Safety-Kleen Chevrolet Camaro and Barry Boes in the No. 32 BCR/Accio Data Chevrolet Camaro scored their first podiums and career-best finishes in Race 2 of the event, finishing second and third, respectively. .